The SXSW music festival has been running since the year I was born, but I've never been. However, after getting a slew of Snapchats, videos and texts with lots of !!!!!!!!!!!!!!!!! over the last two weeks -- I feel like I was there. My roomie, Alicia Inns, moved to Austin in December. There was absolutely nothing I liked about her moving a couple states away, but I was secretly excited to live vicariously through her first SXSW experience. Spoiler Alert: the former news reporter in me couldn't resist an over the top headline, Alicia is just fine, dehydrated, but fine. Here's how she survived and thrived at her first SXSW.
Q/ Before SXSW, what was the best concert you'd ever been to?
A/ Kanye West's Glow in the Dark Tour in California, we road tripped down and it also featured Rihanna, Lupe Fiasco and NERD. It was back in college and it was the first time I had seen a group of artists like that. Kanye killed it.
Q/ After going to SXSW how does it compare?
A/ After these last few weeks, I can honestly say Kanye's concert didn't even come close to the awesomeness that is SXSW. It's on a completely different level. The experience at SX is something you can't get at a concert, not even close.
Q/ How many different concerts or shows did you go to?
A/ I went to more than a dozen shows at different venues and that's rookie status! People are hardcore for SXSW, they wake up at 5:00 am for a live radio broadcast they can attend and stay out until 4:00 in the morning for a surprise guest at a secret venue.
Q/ Favorite?
A/ My all-time favorite has to be John Legend performing at the Spin Magazine Concert. The venue was so intimate. They only let 200-330 people in and I got in the front row! He came out so casually and said hello to everyone, then sat down at the piano and sang five songs. It was like he was in my own damn living room! I'm still coming down from the high. It was amazing and he sounded like he was in a recording studio. So wonderful and one of the coolest things I've ever seen. Now, if only Chrissy Teigen was there :).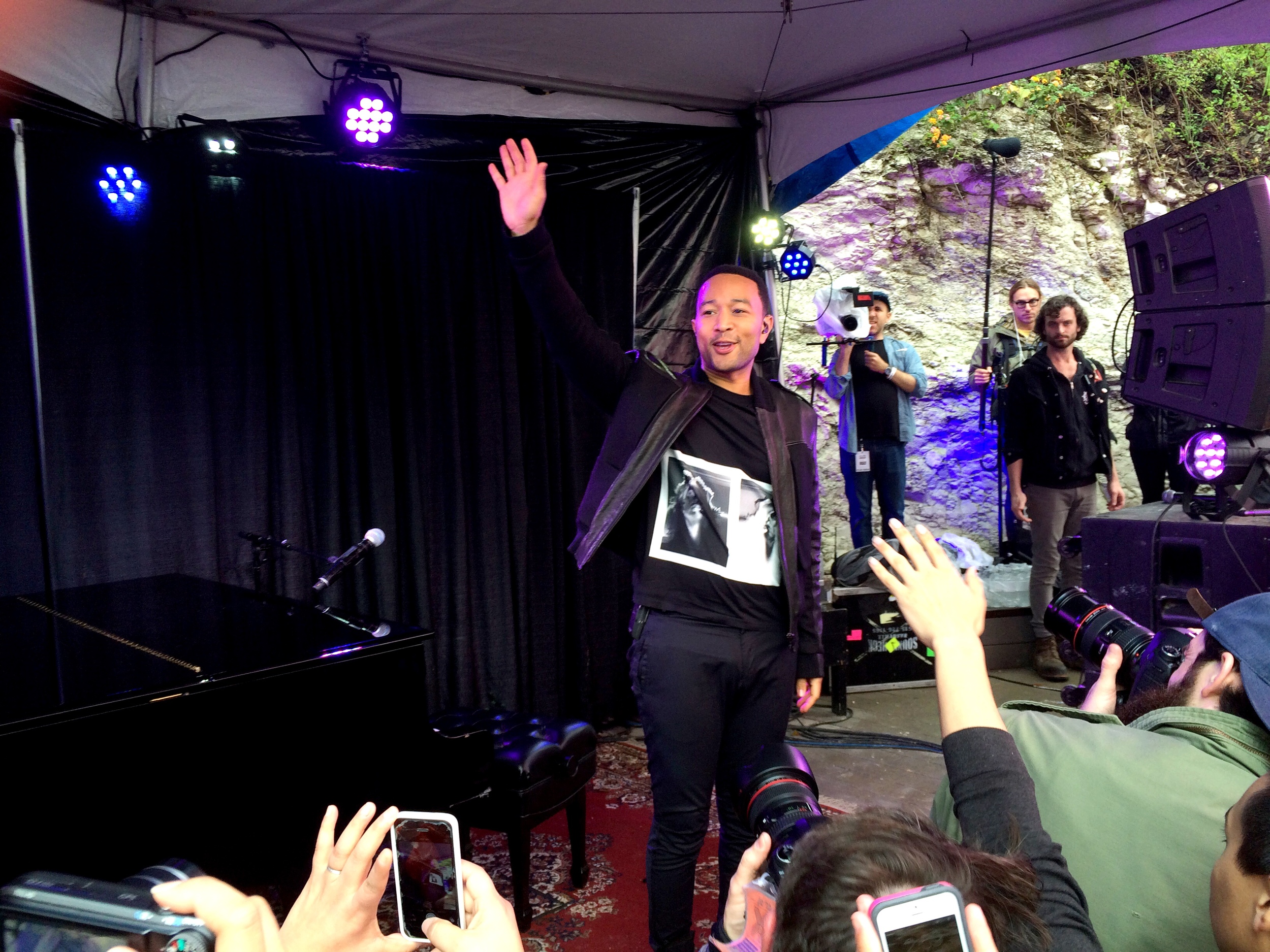 Q/ Best "local's advice" you got before you went?
A/ RSVP for everything and everything. That's the most jaw-dropping thing about SXSW. All you have to do is RSVP to the concerts/parties online, show up and it's free! I didn't pay a single dollar to watch John Legend, Sam Hunt, Timbaland, Odesza, Big Sean, etc. Oh! Bring a portable phone charger, it saved my life.
SEE, I TOLD YOU HER LIFE WAS IN DANGER...
Q/ What was the worst part about SXSW?
A/ The lines. OH MY GOODNESS. Picture a long line, then triple that and that's how long the lines were. If you have an artist you want to see you have to get there 3-4 hours before they even let you in. Once they reach capacity, you're out of luck. The longest I waited was almost 3 hours to get into one of the parties.
Q/ Score any free drinks? [obviously an important question]
A/ Too many free drinks to count! Except, I think my liver was keeping track, haha. Everywhere had free drinks and I'm not talking bottom shelf stuff; free Patron at the Rolling Stone party, free Deep Eddie Vodka at the GSD&M party and at the Ketel One party we got endless drinks, with any kind of mixer you wanted. I didn't pay for a single drink at any concert. Double Whammy! But also, now I'm starting a cleanse.
Q/ how was the food?
A/ The food was also amazing! Free tacos everywhere, and free BBQ until you hate meat. It wasn't just free drinks and food. They gave away free memorabilia at every venue. You could screen print your own t-shirt at the MTV Woody Awards, the Yahoo party had free manicures and sunglasses. Seemed like every event was trying to outdo the other, and I was ok with that.
Q/ What did you wear? Worst/best choice in clothing?
A/ Here's another piece of advice -- go for comfort over style. I was on my feet for 13-14 hours dancing, walking and dancing more. I made the mistake of wearing heeled boots one day and it was painful. Thank goodness for the free drinks to take the pain away, am I right? The last weekend, it poured rain, there was flash flooding and we got caught out in it with no rain jackets or umbrellas. So, we chugged our beers and ran for cover. We packed rain jackets the next day and all was forgotten
Q/ Since you've now officially survived your first SXSW, can you create one of those acrostic poems for it?
A/ Yes!
So many celebrities
X-ceptional people watching
Super exhausting
Worth every.single.second.
Q/ Will you be back next year?
A/ I will be back and I will be mentally and physically prepared! They put out the lineup of artists pretty well in advance and I'm going to bookmark what shows I want to see and get after it! SXSW 2016, here I come!
HAVE YOU EVER BEEN TO SXSW? WHAT WAS YOUR FAVORITE SHOW?